Today I was thinking about the difference between drinking and tasting and the particular approach that comes with enjoying the whisky when it comes to the latter experience. I find that for tasting, I must be in a specific mood, setting, and time, whereas for drinking, well… any time and place will do. It's very similar to my approach to hearing music – I'm either dissecting the layers within or simply absorbing them just as they are. There's merit in both, and it's important [for me] to experience each, as moments of either concoct to the whole. But first, I am tasting [and later am drinking], so let's put on some music and see how it goes! Now playing: Pascal Schumacher – LUNA.
I pull out a box set from That Boutique-y Whisky Company (TBWC) of 10 lovely miniatures from around the world, "presented in a moulded vinyl record, with artwork inspired by the classic Sex Pistols album" called Greatest Hits Of Whisky Vol. 1. Mine is Batch 2, which, for some reason, contains different bottlings than the first [why isn't it simply called volume 2 then?]. Well, never mind that for now. The first 50ml here is a taste of Macduff, a seaside distillery in Highland, owned by John Dewar & Sons, which then, in turn, rolls up to Bacardi. Most of its output goes into Dewar's blended Scotch [along with the spirit from Aberfeldy, Aultmore, Craigellachie and Royal Brackla, all owned by the above]. The distillery also releases the whisky, but under the name The Deveron. This dram is from the 6th batch of an 11-year-old single malt, bottled at 48% ABV, adorned with a label featuring Macduff from Macbeth by the one and only Shakespeare. It's pretty light in colour, and the nose reflects this with bananas, dry straw, and some peaches, with a faint scent of an applied pie. It's rich and chewy on the palate with a slightly bitter finish. With water, it mellowed out, smoothed out the rougher sharp edges where they were, and left a curious and honeyed finish mixed with the cone hops. There is a bit of caramel and even a hint of molten butter on the palate. But then there is that herbaceous bitterness which takes on the flavour of pomelo skin.
I pair this dram with another bottling of the Macduff, this time bottled by Hunter Laing (HL) for its Old Malt Cask range, which captures the single malts at 50% ABV after reviewing its company stock and selecting the casks of only "the highest quality" [we'll see about that]. This is an 18-year-old whisky, distilled in 1997 and bottled in 2015. Both are non-chill filtered and uncoloured, but unlike the TBWC dram, this one was charged from a single refill hogshead. I take a sip without water, and it hits me pretty hard, scratching the wall of my throat. I cough up a chunk of something and almost gag at the harshness and burn in my mouth. I look at the bottle and notice a large chunk of cork floating inside. It must have broken off a long time ago after it dried out, but I'm surprised that I did not decant it right away. I can't stop feeling that there is a piece of it somewhere underneath my tonsils [yes, I know it's gross, I'm sorry], and I try to wash it down with San Pellegrino gulps. I add some water to the dram, but it is still pretty sharp, with plenty of sulphuric finish. There's almost no scent to this one, maybe just a bit of light vanilla, and that's all. The water lifts the curtain just a tad but quickly drops it back into a bowl of liquorice and used oak. I add more water for the last and final sip. Okay, it's better and is drinkable at last, but there is nothing to it at this age. Alas, I think this cask was spent and sold to Stewart, who has finally decided that it's done. I finish drinking this and go back to Boutique-y and make a mental note to salvage this somehow.
So there you have it, folks. A pretty unfortunate experience with the latter, which is undoubtedly my fault. I should have been more careful when pouring. And although the Boutique-y managed to capture a bit more of the spirit in its batch, I wasn't very much impressed with this distillery, especially with the whisky aged for 18 years here. And this just shows you once again – it's not about the age or bottling – it's all about what's inside, which could inevitably differ from one cask to the next. Perhaps I'll use what's left here to blend with other malts that need a boost of ABV. Okay, we're done here for the day, and I will make a call for the Boutique-y!
---
p.s. In other news… I was so disappointed with the above tasting, that I [almost] did not bother getting another dram at dinner. At a restaurant, on their cocktail list, I saw an Old Fashioned. But it was made with rum! It was such a letdown that I almost gave up altogether. But then I had a brilliant idea of asking them to choose another spirit. And I went with an Amrut Peated, and, wow, did that really lift my spirits up [no pun intended]. This is a whole other Old Fashioned as I know it, and I can't wait to try it again with another Islay Scotch!
---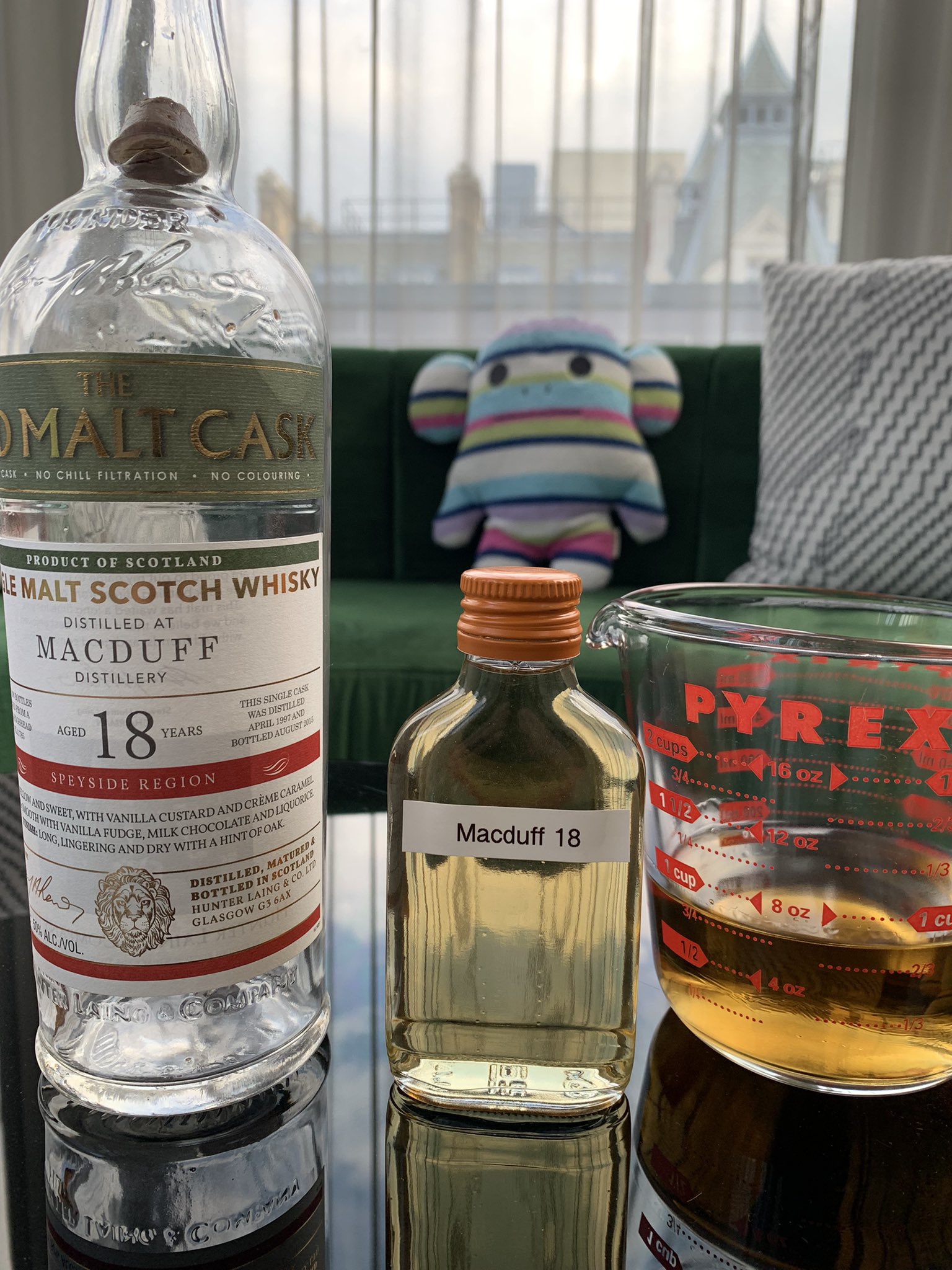 [Update 5/3/2022] I don't claim to be a master blender, but my experiments seem to be working, at least for now. To salvage the corked Macduff, I have decanted it (using a disposable teabag), then siphoned off about 100ml for my ever-growing archive stash, and poured the remainder into a bottle where I've been already marrying two wine-finished Caol Ilas and a bit of Laphroaig. The wine aftertaste was really bothering me and I tried to drown it out with some peatiness, but it was still a little there. After I lifted it up with about 100ml of the remaining Macduff, the high-alcohol content really improved the flavour, added more caramel notes, and toned down the smoke. It's a very nice bottle now, turned from a bunch of poor single malts, into something unique and indeed very special.