Today's pairing is courtesy of @TweetTastings which partnered with Dalmore to showcase three of its latest offerings, plus a special and an exclusive preview [more on that below]. I've been a fan of Dalmore for nearly two decades now [possibly more] and feel like it always had a presence on my shelves. The 18-year-old in particular, along with the Cigar Malt, have always been my favourites. I've recently put up a Dalmore 15 next to The Macallan Fine Oak 15 Triple Cask in this review. So when I had the opportunity to taste a few more of its unique expressions, especially the vintages, I immediately jumped on board. So let's see how that went, but first, you know, we need the music! Now playing: Strië & Scanner – Struktura Revisited.
We kick off with the Dalmore 12-year-old. This is the "standard" Dalmore if you ask me, which you will probably find on most shelves in restaurants and liquor stores. A couple of quick words on the brand and its production. Dalmore is a Highland distillery operated by Whyte & Mackay and owned by the Alliance Global Group, whose portfolio includes many businesses in the food and beverage industry, with Jura and Fettercairn single malts being more of interest in this context. Before I started getting "serious" about whisky, I simply drank it [as you should]. I didn't know that things like "artificial colouring" and "chill-filtration" played a part in the final product. And so, when I found out, I will admit, I've turned my nose up a bit on the distilleries that followed on with this accepted practice. I wish I didn't know and simply carried on. So Dalmore's one of those – *but* – mainly for the mass-marketed product. So let us skip the colour and focus on the taste. There is that caramel, that vanilla and that dried fruit sweetness, which I have learned to love from all the Dalmore pours. A bit of chocolate and orange, but not exactly citrusy in presence, more like an afternoon delight, post-Christmas cake, and stroll through Belgian candy makers. The 12-year-old started off in American white oak ex-bourbon casks, then some of it was transferred into sherry casks that previously had held some rare and aged Oloroso before the two were married once again, in an "in-situ cask" for final maturation. It's bottled at 40% ABV and sold for about £60. I use this dram as a baseline for the taste of what's to come in moments.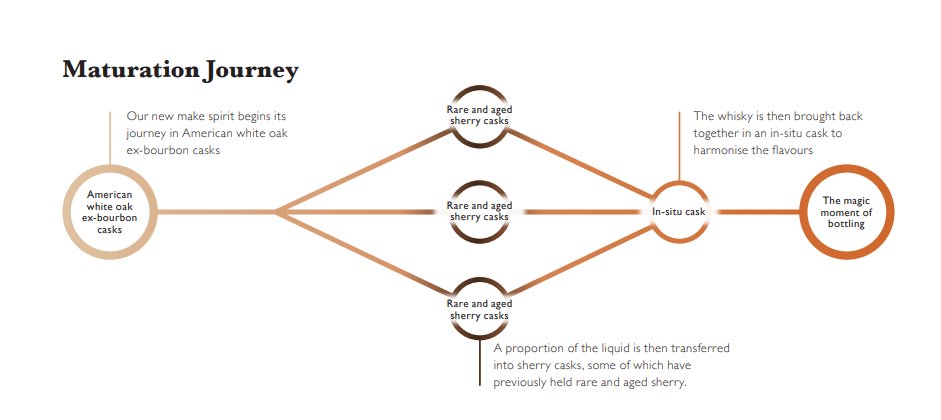 Next up is the 2005 Vintage, bottled at 43.8% ABV and sold now at £150. Its journey started off in the ex-bourbon casks as well, but later a proportion was moved into "hand-selected" aged Paez Amoroso Sherry casks. It's got a bit more of that candy now, more ripened fruit, like apples, apricots, peach and bananas. There is a lot less caramel here on the finish. It doesn't have that toffee flavour, and I like it a lot. A nice warm breeze of a cigar slowly rising in the air. Maybe a hint of chocolate or coffee. I think I wouldn't even recognize this as a Dalmore if presented in a blind tasting. And that's great! I move on to the older vintage from 2002. It's even lighted on the nose, not as sweet and caramelly as before. It's rounder and richer on the palate and really fills out all the gaps between the buds. This vintage is more dense and chewy viscous. We're back to Dalmore profile here, true to form. It's bottled at a higher ABV of 45.6% and now goes for £350. Besides a similar maturation process, this single malt was finished in Muscatel and Cabernet Sauvignon wine barriques. For both, we know the vintages, but not the time that both these spirits spent in barrels. Nevertheless, the different finish [and most likely extra age] have really brought this spirit to the top of everything that I have tried… till now…
And then there is this unique and exclusive preview of the 21. And… BAM! It's smooth and silky, rich and confident dark flavour. Matured in rare Matusalum Oloroso sherry casks and bottled at a lovely 43.8% ABV [I'd happily take higher]. It's absolutely decadent. I struggle here to savour. It's got that nice confectionary bite with just a tad of zest and then tobacco. There's more umami and more texture overall, with a fantastic, warming, and long honeyed finish. I do not want to end this one, and when I quickly flip a bit and take a sip of staple 12, it almost feels like a young kid next to this wise, mature and gorgeous spirit. And when I finally poured out the last drops from the sample bottle, they came down in a single stream instead of drops – another fine and viscous property of this golden liquid. The full details and the recommended retail price are yet to be announced shortly. And since I always pick a winning dram in all my tastings side by side, I'll easily proclaim that this upcoming 21 wins this round.